Automatic Bottle Filling Machine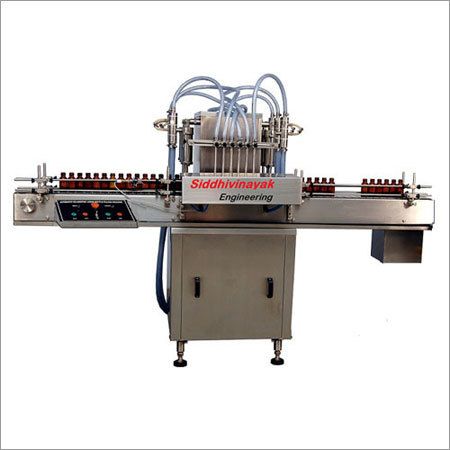 Automatic Bottle Filling Machine
Product Description
Automatic Volumetric Liquid Filling Machine
is applicable in different industries such as Distilleries & Breweries, Cosmetics & Herbals, Pharmaceuticals, Food& Ancillaries etc. This machine works on the principle of volumetric with diving nozzles.
Automatic Volumetric Liquid Filling Machine
is specifically designed to reduce the handling of heavy container, whilst maximising production outputs on difficult product.
Rigid vibration free construction, low noise and power consumption.
1% Filling accuracy on single dose.
Elegant and easy control panel for total control on operation.
Self lubricating UHMW-PE guide profile for SS slat chain provides low friction wear surface, smooth and noiseless conveying.
Drip tray under the conveyor.
Pneumatic bottle stopping arrangement.
Safety guard for conveyor gear box, motor and pneumatic cylinders.
Nitrogen flushing system provided (Pre or Post) as required by customer
Optional Features
Automatic chain washing system for conveyor belt.
Acrylic cabinet.
Acrylic cover on conveyor.
Float tank (Holding tank) with or without stirrer
In-built pre-inspection.
Nitrogen Flushing.

Model

SVVLF - 100

SVVLF - 150

SVVLF - 200

Output/Hour

2400 to 6000*

3600 to 9000*

5000 to 12000*

Direction of Movement

Left to Right

Number of head/syringe

4 Nos.

6 Nos.

8 Nos.

Fill Size***

5 ml to 1000 ml

Electrical specs. **

Main Machine

1 HP /415 Volts / 50 Hz.

1.5 HP /415 Volts / 50 Hz.

Conveyor

0.5 HP /415 Volts /50Hz.

Height of Conveyor

860 mm to 910 mm adjustable.

Change parts required

(A) Syringes. (B) Nozzle (C) Inlet & outlet hose pipe